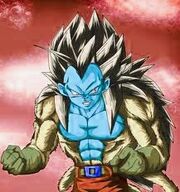 Basher Is an alien based on Vegeta's, Goku's, And Majin Buu's dna that was made to destroy all Saiyans to get revenge for the Saiyan - Tuffle War. Basher was born as a SSJ5. Little is known about Basher.
Final Flash
Kamehameha
Big Bang Attack
Big Tree Cannon
10x Kamehameha
Final Shine Attack
Planet Burst
Super Kamehameha
Vengeance Blow - Basher rushes at the opponent kicks him in the stomach and blasts him away with a powerful ki blast.
Vendetta - Basher blasts the opponent with poweful multiple ki blasts (similar to the Super Energy Wave Volley).
A Tuffle's Wrath - A energy wave 10x more powerful than the 10x Kamehameha and Final Shine Attack.
Transformations
Edit
SSJ5 (Basher's base form)
Full Power (A full power version of SSJ5)